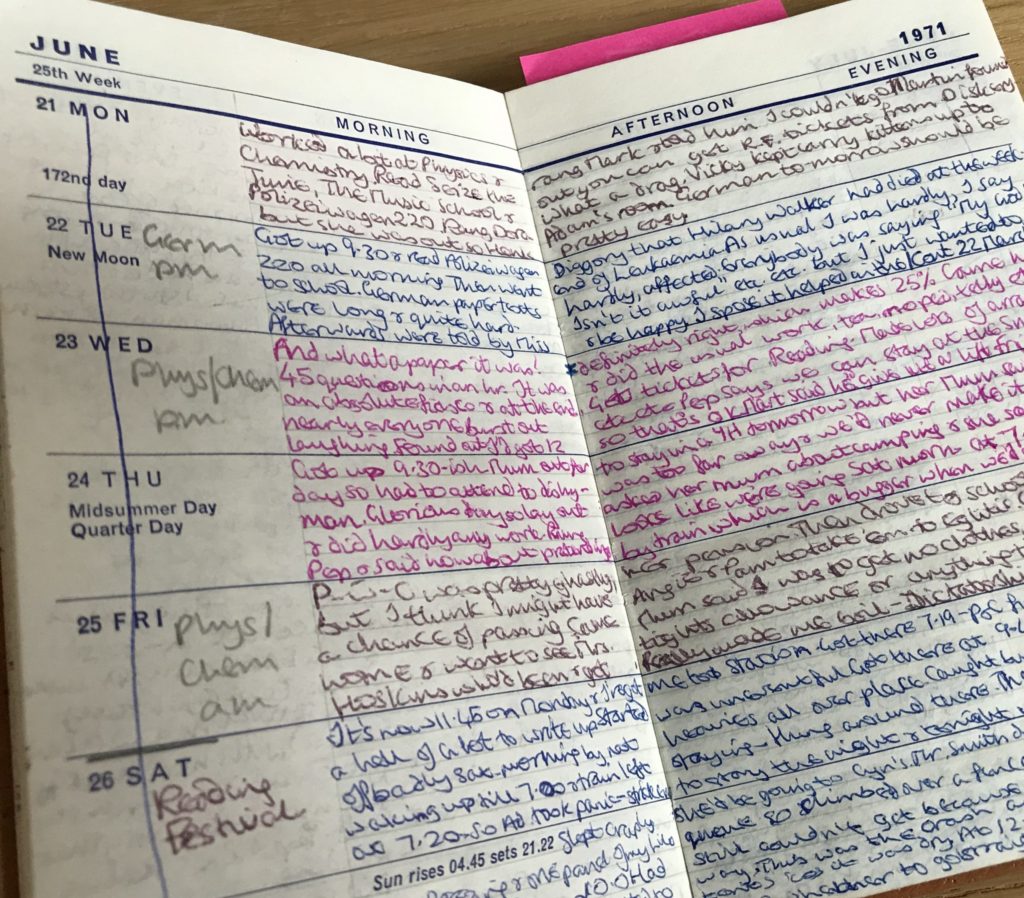 Just after O levels, a week before turning sixteen, school friends Jo (me), Pep and Clob joined the 30,000 crowd at the first Reading Festival.  The weekend ticket cost £1.50. My diary recorded our first sight of drugs.  
Saturday 26th June 
The site was a quagmire. Tons of hippies & heavies. We read in the paper of 50 busts last night. Tins for a Bust Fund were circulating, to raise enough bread to pay the fines, so the busts would be a waste of the pigs' time & taxpayers' money. Everyone made V-signs at the reconnaissance helicopter & planes making a helluva row.
After Ralph McTell it started raining & 2 Welsh blokes – Barry & Idris – invited us into their tent with another girl, Glenys & boyfriend Mike. Squashed inside a 2-man tent, we three nudged hard when Barry rolled a joint; they didn't mind us not smoking it.
Meanwhile Renaissance and Lindisfarne were quite good & Genesis were cancelled. We all lay down crossways with my cloak trying to cover us, listening to Pete York Percussion Band (good), Terry Reid (too long) & Hardin & York (mighty fine). Fantastic evening atmosphere for East of Eden, Jig-a-Jig, and Sha Na Na.
Back at Mr Smith's house, Martin gave us a fag. I had a few puffs, unsure if it tasted funny because of the cardboard filter. I stubbed it out & kept it for tomorrow.
Sunday 27th June 
We gave the blokes 'our' joint & Mike said "This is good shit". They bought 4 tabs of Blue Cheer from a pusher for 75p each. It was Id's first trip. Glen saw colours & giggled, while Barry only got a buzz like shit. When it rained again I invited another bloke, Brian – wearing a fur coat, tie-dye shirt, blue cords & boots – & his friend to squash inside.
Collosseum were the best, followed by Van der Graaf Generator and Rory Gallagher. The Bust Fund had collected £400 towards £800 of fines. I went outside to watch Osibisa & it was fucking cold & they were fucking brilliant.
Submitted by Jo Somerset, 64, Manchester