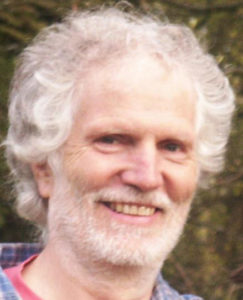 Larry Butler is an eminently suitable subject for Autumn Voices. In almost all of the healing and therapy groups in which he is involved, a large proportion of those present are over 60; and Larry himself, now aged 75, is a role model of continuing to be active, creative and productive in later life.
Born in Illinois on 11th June, 1944, Larry Butler, poet, healer, teacher, social reformer, publisher, pioneer of men's health and of art as therapy, has touched and influenced the lives of thousands of people, either directly or indirectly. He arrived in Britain, aged 23, via the USA and Paris where he studied painting.
I first met Larry in 2015. I visited him in his terrace flat near the Botanic Gardens, Glasgow. I was there to interview him for my book Autumn Voices; Scottish writers over 70 talk about creativity in later life. Not only was he planning to be the publisher of this book, but he is an extremely gifted poet. While Larry prepared a vegan lunch, mainly using the produce of his allotment in nearby Kirklee allotments, I browsed his bookshelves: Books on movement and dance, Taichi, improvisation and performance, on the role of play in education, on aspects of Buddhism, poetry and more poetry. There were also several shelves of notebooks and diaries representing years of recording his 'haiku moments', creative ideas and sources of inspiration. Over lunch and before I got out my tape recorder to record the interview, we talked about his love of gardening, and of wild swimming and the fact that, most evenings, he and his partner (now his wife), Ratnadevi (an ordained member of the Triratna Buddhist movement) clear the sitting-room floor and abandon themselves to improvised, free-form dancing.
Within half an hour of meeting Larry Butler for the first time I knew that his life story, should be told and that I wanted to be the person to do it. Larry told me recently: 'One thing I remember from our first meeting was how much our lives resonated/sparked with each other. There was, and still is, a mutual impulse to get to know each other – a growing curiosity about our past, and a desire to be part of each other's future – which we are now' – sentiments which I fully share.
'I Am Because We Are' however, is certainly not his full biography. Hopefully that will come later. This series of posts will focus on themes related to Autumn Voices and on those of Larry's activities in which I have personally participated.
A London job in playgrounds led to an increasing involvement in the use of play and games for education and therapy. He ran workshops in hospitals, prisons and youth detention centres; and pioneered the use of play in management training. Over the years Larry added poetry, drama and improvisation, dance and movement to his growing repertoire of arts for therapy and wellbeing. Always he was at the forefront of this new approach.
In 1981 Larry moved to Glasgow in Scotland. He worked as a movement and tai-chi teacher in hospitals, hospices, day centres, nursing homes, the Maggie's Cancer Care Centres, working both with patients and training health professionals and carers in using tai-chi principles.
In the late 80s he set up the Better Health for Men network, funded by what is now NES – NHS Education Scotland, which resulted in ground-breaking changes in this neglected area of health care (1 in 4 Scottish men die before reaching 65). This was followed by a feasibility study, Arts on Prescription, commissioned by the Greater Glasgow Health Board, which was influential in promoting the role of the arts in healing and therapy in Scotland and beyond.
Larry has been the founding member of a whole range of organisations using the arts to benefit health: Project Ability (disabled people), Survivors' Poetry Scotland (trauma, mental health, torture) which became Lapidus International (the words for wellbeing organisation); Die-a-logue (discussion groups about death); The Scottish Men's Group (emotional intelligence, mental health, personal growth); and a Dad's group (part of Parent Network Scotland). He also runs therapeutic writing workshops for the Maggie's Cancer Care Centres.
His approach in all that he has accomplished has been collaborative action – people gathering in groups to help each other, to provide mutual support, share experiences, and use the knowledge and expertise of individuals to contribute to the whole; and usually to have fun in the process. In this, he reflects the Zulu phrase 'Ubuntu' used by Nelson Mandela: 'I am because we are.'
Larry is a sower of seeds and, in the following months, we shall be taking a look at the rich harvest of his efforts. Hazel Carey, in her book, Ubuntu, says of Larry Butler: 'He opened up the field in forums where sharing our creativity and humanity became the norm' and she writes of his leadership as 'streaked with the marks of a wild genius.'