The Men's Groups movement started up in the late '80s as a result of a whole range of influences such as encounter groups, Humanistic Psychology and Co-counselling, most of which were very much in the spirit of 'I am because we are'. Larry Butler was actively engaged in many of these groups He was a founder member of the British Holistic Medical Association which did a great deal to promote the mental and emotional dimension of healing. In the late 80's Larry set up a network called Better Health for Men funded by the Health Education Board for Scotland (now NHS Scotland), which resulted in ground-breaking changes in this neglected area of health care, particularly men's mental and emotional health. Scottish men had the lowest life expectancy in Western Europe (1 in 4 Scottish men die before the age of 65) and high levels of drinking, violence and self-harm. A different version of what 'manhood' means was needed.
There follows my own impressions of the weekend in March 2020 at Whatton Lodge, Gullane on the shores of the Firth of Forth in East Lothian. At one time this had been a miners' rest home and still had portraits of various leaders of the National Union of Scottish Mineworkers, and a sculpted head, done in coal, of Michael McGahey. Later, it became the base for private clinics and care homes, with occasional lets to the likes of the Scottish Men's Group – a meeting which  had its origin thirty years ago in a small men's group among whom were Larry Butler and James Hawkins. Both were present at the 2020 gathering.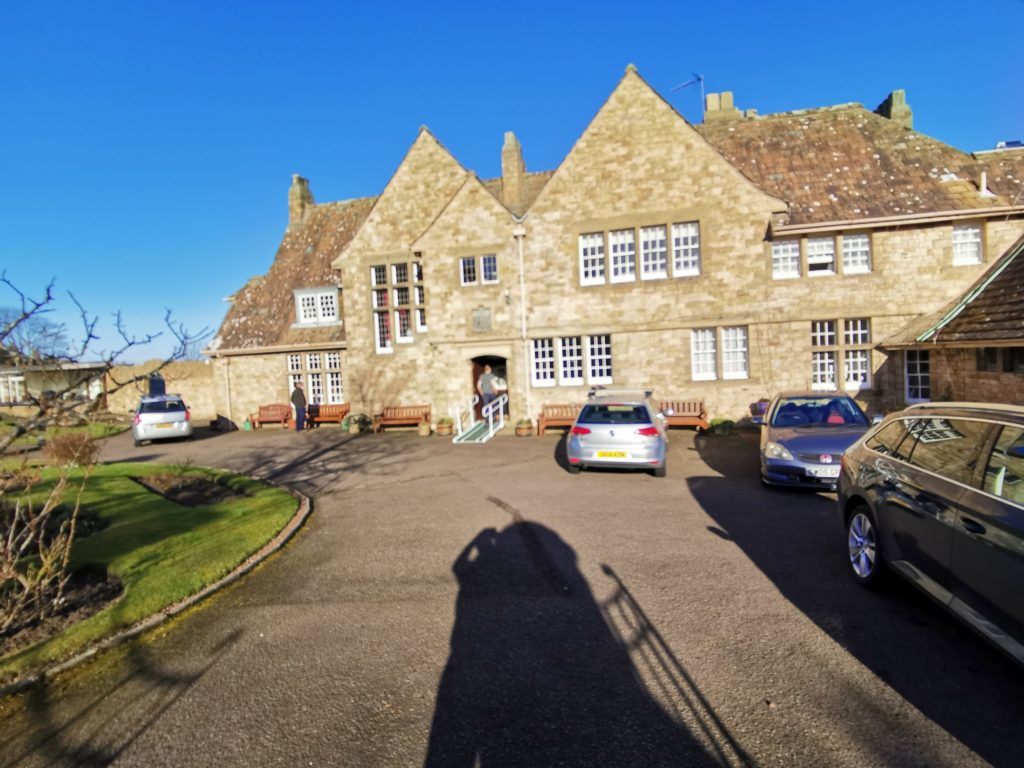 So, what goes on at these weekends? Everyone who attends probably has a slightly different account. But at the heart of it is an opportunity to lower your defensive shield, to let go, to talk about your problems and real feelings, in a supportive, caring atmosphere, in a way that, perhaps, you have never talked before. Willie Grieve, one of the regular attenders at these weekends, describes it as a process of 'softening and opening.' He recalls a young man, at his first group, nervously asking, 'But what do I do here?' And an older man replying, 'Come forward, and say who you are And wrestle with it.' These weekends are a safe and loving environment where such wrestling can take place.
Although the group's 'rules' and routines are flexible, there has now become an established pattern to these weekends.
Every day there are three group meetings: a small group of four or five (after breakfast); a medium size group (before lunch) and the big group, which is everyone (before supper). Whatever the size of the group, it begins with a few minutes of silence, followed by an opportunity to say what's on your mind at the moment, what is your emotional state at present. And they end with everyone standing in a close circle, arms linked, making eye contact and silently thanking each other for help received, or for the courage it took to speak about a problem. A recent feature of the group circle is that it gets tighter and tighter until it becomes a group hug. At which point a droning sound emanates from this human bunch – a sound like a beehive, a drone of bagpipes, bass harmonies on a didgeridoo, or all of these at once – a collective expression of solidarity, an outlet for tension and a reiteration of our gratitude to each other.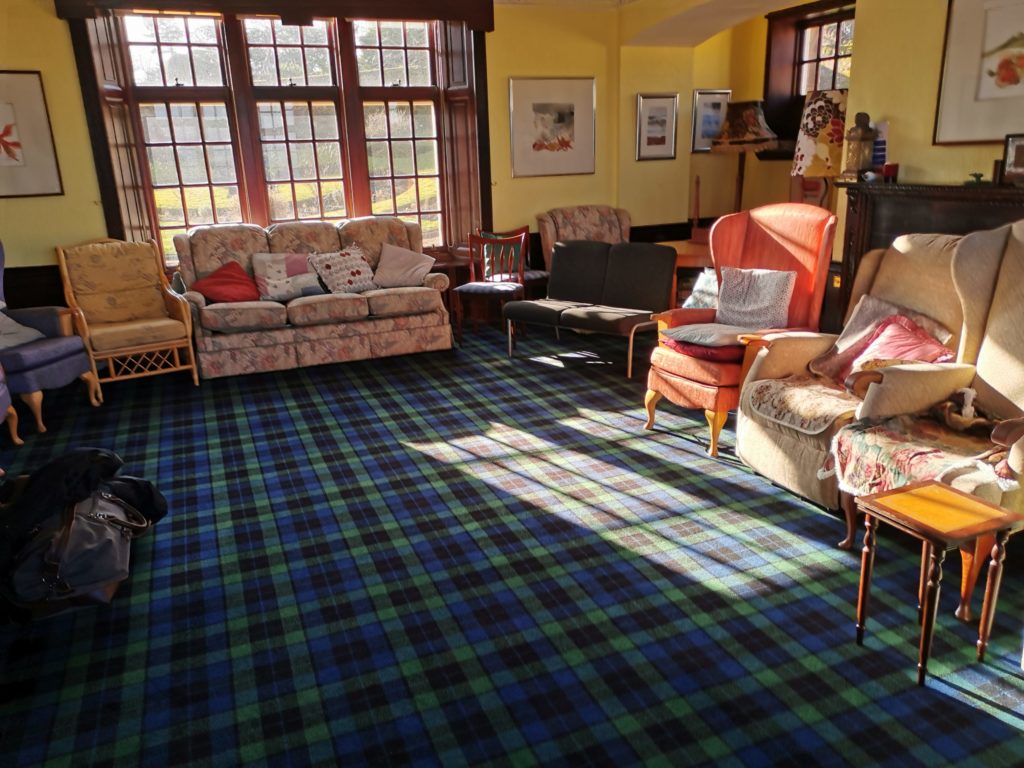 The small group is where you can 'go deep' if you want, discussing particular problems, baring your soul. The way in which the composition of the small group is decided is unusual. In a different room from where the big group is assembled, paper plates are laid out, representing the small groups required, each divided into segments by a felt pen according to the number of people in that group. One by one we go out of the main room and drop some recognisable object into one of these segments (a pebble, a bunch of keys, whatever) that cannot be identified as belonging to us. There is a rule that no small group can contain more than two people who haven't been to an SMG weekend before, so that some segments are marked with an 'N' to indicate this is where newcomers should drop their token. When all the segments have been filled, the plates are carried into the main room and placed on the floor. We stand by the plate which has our token in it and discover who else is in our group.
Confidentiality does not allow me to go into the details of what is discussed in the small groups, but there is no doubt that, with the support and encouragement of everyone else in the group, I and others examined ourselves in a way that doesn't normally happen and faced up to issues in our lives that, perhaps, we have been in denial about or 'swept under the carpet' until this moment. There is a level of self-honesty in these small groups that I found remarkable; and a level of sympathy, sensitivity, caring and insight that was equally remarkable.
Medium groups tend to be less intimate, discussing more general, common problems. These are formed on an ad hoc basis.
The whole-group assembly, the big group, covers a mixture of topics – housekeeping issues, someone airing a grievance, or expressing gratitude for something that happened that day. The weekend always starts with this group. There is a 'checking in' process, where we say why we are there, what we hope to get out of it what we are looking forward to. And the weekend always ends with this group where we say what have been the highlights for us of the weekend, what we have gained by being here and thanking others for their part in this.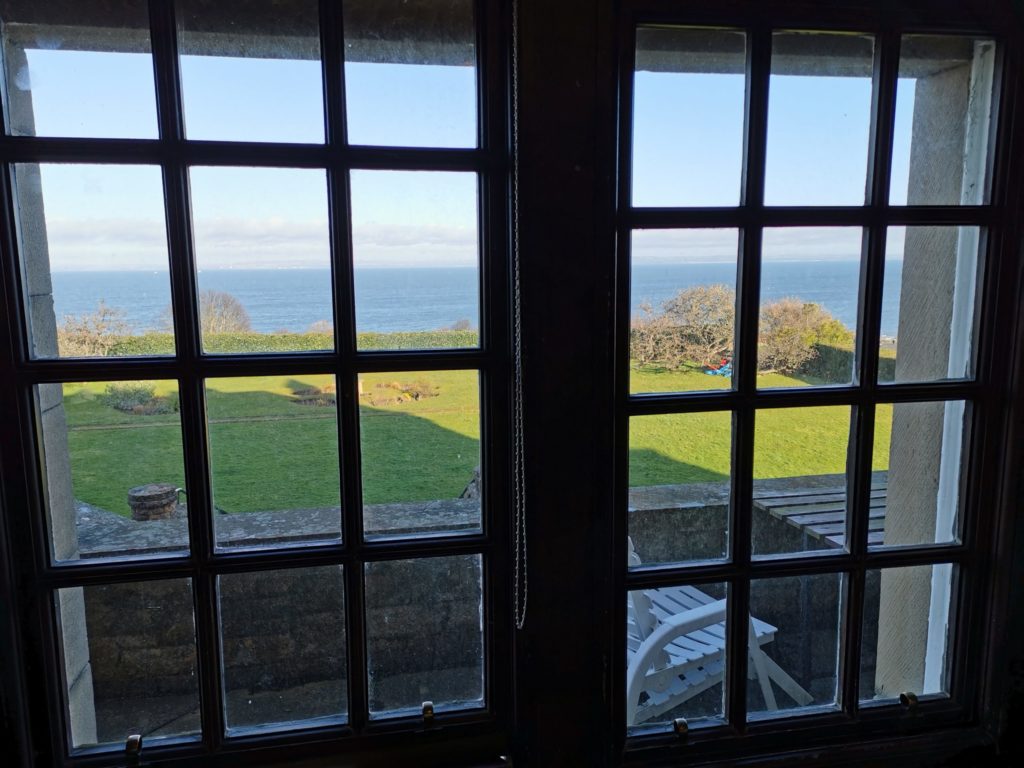 Then there are Special Interest Groups which meet in the afternoon and are voluntary. Anyone can ask to lead a Special Interest Group. Some of the ones I know about are: The use of psychedelic drugs in therapy, music and song, story telling, preparing for death.
The organisers buy basic foods like milk (including substitutes made from oats, soya etc), bread, butter, jams, fruit, coffee and a variety of teas. We get our own breakfast, but lunch and supper are prepared by volunteers who bring enough ingredients for everyone (plus receipts to be reimbursed) and several helpers who chop the vegetables etc. Most meals are vegetarian with a vegan option.
The conversations that take place outside of the groups – at meals, while preparing meals or washing up together, on walks together or relaxing in armchairs are a valuable feature of the weekend. We get to know each other better, to tap into the huge array of professional expertise and life experience and to explore further whom we really are.
Most long walks are taken in the early afternoon. An idea that Larry introduced was for men to pair up (if they wanted) and tell each other their life story and then come up with a one-line epitaph for each other. At this particular weekend Larry had taken a backseat and was not in charge of anything. But I was always aware of his presence. I will end this account by calling upon Willie Grieve again, who, like me, values and appreciates what Larry can bring to gathering like this:
'And he had always felt to me to be particularly different. His poetry; his way of doing things; entirely unabashed at forging his own path, going against the grain. Looking out the window one time, and there he was, away up a tree, encouraging other group members to join him. (Even, on another occasion, demonstrating to others how to make love to a tree.) I remember him saying that he had retired at 23. Whenever there was a different kind of option of a group to join (movement only, silent) there would be Larry.

Always initiating, out of left field; challenging, encouraging, light-footed, clear-spoken, his feelings moving through him like the wind, crying and laughing, dancing and bare-footed, will o' the wisp, salt and savour. A Parliament of one. Never at a loss. Those poetry breakfasts, eating porridge and sharing our favourite poems.

And always the man with the big pillar candle, in the early morning, wrapped in a blanket, meditating. Or glanced out the window in the early light, tai chi, bare feet on the dewy grass.

A man who has learned to dance; and inspires others to try.'