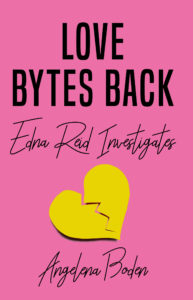 When lonely widow Kitty Merriweather moves to Derbyshire's Hope Valley, she joins the Silver Rose online dating site because it offers a safe place for the over sixties to find romance.
There, she meets the enigmatic Harvey, a scientist working on a conservation project in Bali who promises her "hot days and stormy nights."
Love blooms quickly but Kitty breaks all the rules laid down by the agency, putting herself at risk. When little things don't add up she dismisses them as being unimportant. Nothing matters more than her plans for them to live happily ever after.
When she confides in her new friend, Edna Reid, octogenarian and former café owner, Kitty gets angry at Edna's implication she is likely the victim of a scam. The more Edna hears about Harvey, the more she is convinced he's only interested in Kitty for her money.
Using her knowledge of computers Edna finally uncovers the truth, but where does black magic and murder fit into this intriguing cosy mystery?