Our youngest, Leonie, was the first to marry, having asked permission of her two older siblings! I was mindful of the things that slightly marred our own Wedding Day, which was otherwise small, intimate and very enjoyable. One was that my mother and I quarrelled about my choice of wedding dress, and the other that Robin's parents insisted that we invite some of their friends, strangers to us, who were 'owed' wedding invitations. So I gave Leonie a moderate sum of money and told her that she and Nuno could invite whom they liked, make their own choices, and if they managed to economise, put the leftover money into savings.
I didn't offer to make Leonie's dress, though I am an experienced dressmaker, had designed and made any number of dancing costumes, also bridesmaid dresses and Christening robes, because if she replied, as I thought she might, 'No, thanks, Mum, I want a proper one!' I knew I would be hurt, so I thought it best to avoid that possible scenario. However, to my delight, Leonie asked me to make her dress, and of course I replied that I'd be thrilled to. We met up in Glasgow and Leonie showed me a photo of what she wanted. I gulped and said 'You must have whatever you want, darling' so as not to repeat the rows with my mother, but Leonie asked 'but what do you think?' Leonie has inherited from myself and my mother the opposite of the flat chest which this design would have been perfect for, having diagonal ruffles all over the front. I am not famous for my tact, but I thought I did well with 'I think we could find something that would suit you better'. Together we searched all the pattern books, and found the perfect dress in Vogue. It had a deep v neck, and a fitted bodice emphasizing a small waist. We bought the necessary yards of off-white silk dupion and hundreds of matching motifs that had to be stitched around all the edges, down the seams, and arranged on the train.
Fortunately I got the boring bit behind me, the gathering of masses of net in layers on a soft lining for the underskirt, before starting on the dress itself. I sewed love into every stitch, much of it by hand, and spent more than an hour arranging the motifs to my satisfaction before hand-stitching them all in place. Leonie would come down from Glasgow for a fitting every now and then, as it progressed. It was finished in plenty of time, and carefully stored in a cupboard on two hangers, one for the dress and one for the train, and enclosed in two plastic bags that met at the bottom.
Eight days before the Wedding a friend came to visit, and, since she wasn't invited to the Wedding, asked to see the dress. I took it out and removed the bags, holding it with the back towards me. 'What's that red bit?' she asked. I turned it round, and to my horror, saw a dark red stain right in the middle of the skirt front, and a huge watermark over one half of the skirt. There had been a water leak from the attic, and it must have dripped into the cupboard and onto a red plastic bag containing shoes just where the protective bags over the dress met. I tried not to panic, I sped round every dry cleaner, but none thought they could help. The material was supposed to be dry clean only, but sometimes you can get away with ignoring such advice, so I risked a wash, which made the red stain pale enough to disguise with motifs, and the watermark was gone, but when the dress dried it was as limp as a dishcloth. I phoned Leonie and apologetically told her what had happened. I could hear her attempt to choke back tears as she replied ' never mind, I'm sure it's still beautiful' I couldn't bear it, and remembering how many deadlines I had managed to beat with dancing costumes, I said firmly, 'go back to John Lewis and buy the material again' I almost considered unpicking the motifs and reusing them, until I remembered how crucial time was, and added ' and buy all the motifs again, then take it round to my friend Gillian, who is coming to supper today, and ask her to bring it on the train with her'. The material, when it arrived, was a slightly creamier colour, and the motifs were a better mach. Luckily Robin was away so I had nothing to do but get on with the dress. I got up every morning at six, snatched snacks at intervals, took a break to walk and get the crick out of my neck in the evening and went back to sewing till bedtime. In six days the dress was finished again, and Leonie and her husband to be, Nuno, came with Nuno's family, over from Portugal, to have lunch and tea and meet us. I'm afraid Nuno's family didn't get quite the attention they deserved, as Leonie and I were frantically finishing the hand-sewing on the bridesmaids dresses, abandoned for the sake of the Wedding dress.
Leonie looked absolutely beautiful on the day.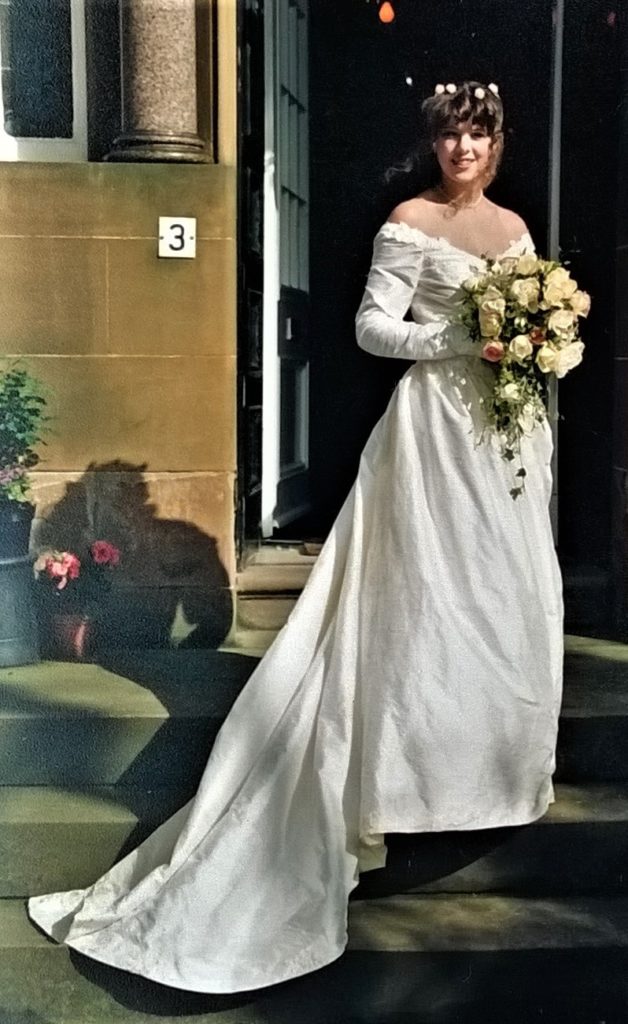 Our elder daughter, Kally, though twice married, didn't wear a Wedding dress on either occasion, but she did wear one for one of her dance theatre pieces, Les Amoureux, based on an Angela Carter story.  She danced the part of the vampire Countess, Miss Havisham-like wearing a Wedding dress every night for many years, and needed a really well-structured one so that she could slip in and out of it on stage without groping for the openings. And so that it would hold its shape when vacated in a back-lit coffing. She was lucky and found a beautiful two-thousand pound dress on eBay, which she was able to acquire for fifty pounds.
She handed it over to her designer, who torched it, ripped it and spray-painted it grey till it looked convincingly as if it had been worn every night for a century or two.
Then Kally received an email from the original owner, asking if she could see the Wedding pictures!