Early 1970s we arrived in Chester. My husband my seven month old daughter and me.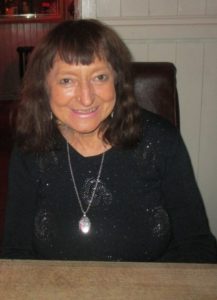 It seemed like a minute ago I had been dancing in the Cork Opera House, a soloist with the Irish Theatre Ballet Company. Now I was missing that life, and I needed to earn some money.
In 1973 I opened my ballet school, Weldon School Of Dancing. I had hired a hall at Saint Paul's Church, Boughton. There on a small stage, along with live music, costumes, scenery, I put-on an annual performance choreographing a short ballet for each child from each grade.
Our profits went to Woman's Aid, Chester.
Sadly during this time my husband died, this tragedy meant I closed the ballet school temporarily, reopening six months later, almost all my pupils returned.
My teaching qualification RAD enabled me to enter pupils for exams up to grade four. This we did, not without feeling nervous on my part. But the children did them very well.
In 1977 I had to decide whether to open my ballet school full-time or to become (temporarily) a full-time Mum. I choose the latter.
Our last performances were a double glory. We were invited to take part in The Chester Music Festival. To perform our Gipsy Dances, music Brahms Hungarian Dances, live in Chester Grosvenor Park. Then a matinée in Chester's Town Hall, sharing a programme with Hamond School of Dancing. I reproduced Prokofiev's   'Peter and The Wolf ' for my senior children, they were amazing. In the audience were The Lord Mayor and his Lady wife and other dignitaries. In fact the house was packed. Yes, a very great memory.
Submitted by Maureen Weldon, 79, Flintshire